Understand your personal finances
Intelligently track your spending with powerful analytics your bank doesn't give you - gain insights you won't get anywhere else.
check Free to use
check No ads
check No credit card required
check We don't sell your data
Create Account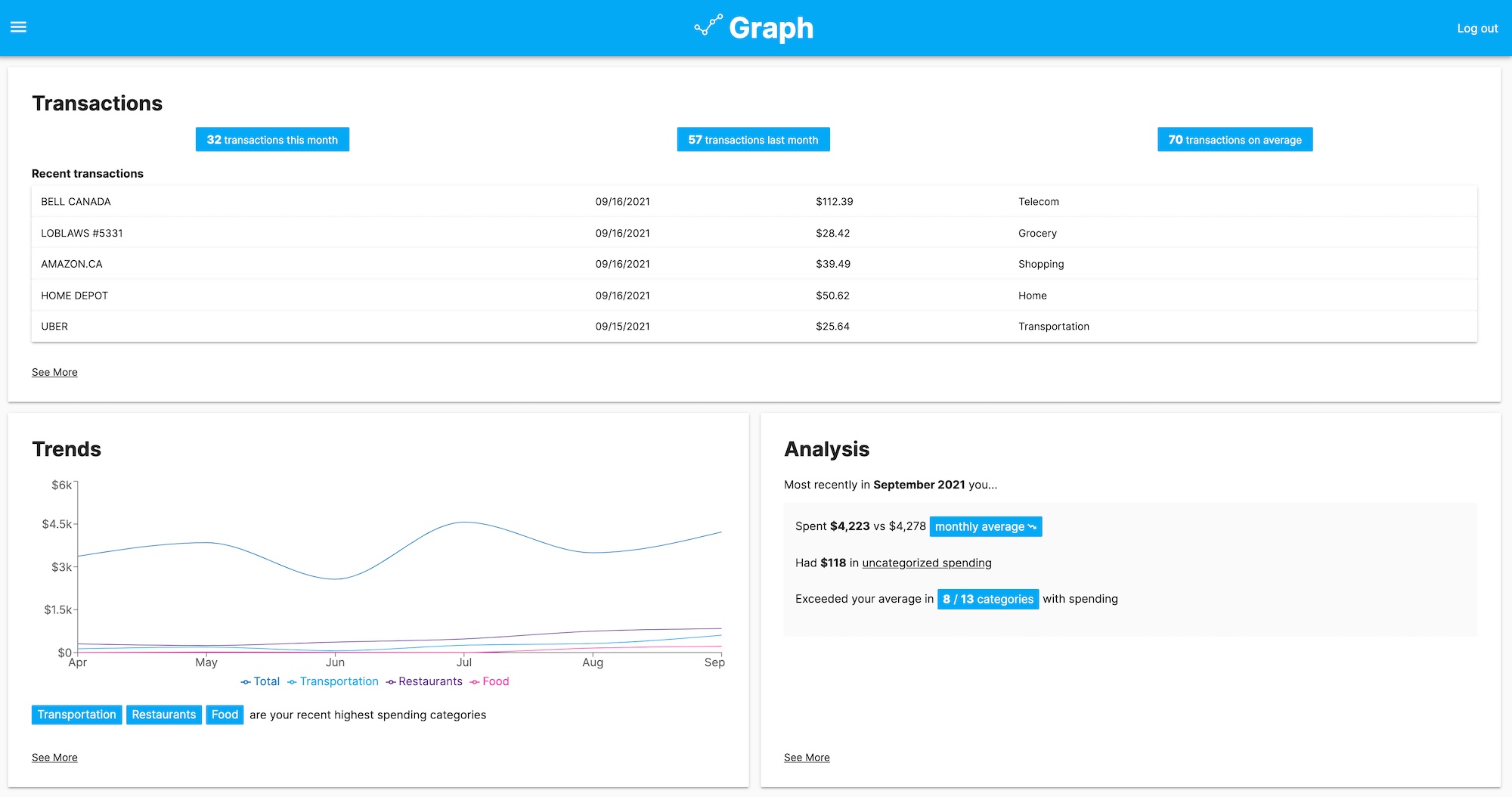 Why Graph?
Aggregate
---
All your spending in one place - get a complete picture of your personal finances.
You have many accounts spread across different banks and cards - but you can import them all on Graph.
Personalize
---
Graph automatically categorizes your transactions when you import them. You can freely create new categories and tag transactions. The more you use it, the better it gets.
Exclude unwanted transactions or add one that was off the books. You are in control.
bar_chart
Analyze
---
See patterns and trends you would have missed.
Powerful tooling for your financial data. Come with questions and Graph will get you answers.
lock
Privacy + Security
---
Privacy first. Unlike other services, Graph does not sell your data or share it with any third-parties.
Secure by design. You never have to share your banking passwords or worry about your accounts being compromised or your agreement with your bank being violated.
Frequently Asked Questions
expand_less

Why should I use Graph?

Graph let's you view all your spending in one place and gives you professional-grade tooling to query, segment, visualize, and otherwise understand your personal financial data.

Being able to quickly, easily, and comprehensively analyze how you spend your money gives you super-powers when it comes to making smart and informed decisions in your financial life.

Better decisions mean you can have more of what you love and less of what you don't.

expand_more

How is using Graph different than budgeting?

No one likes budgeting - it's a chore.

Graph surfaces key information about your finances that already exists, you just don't have access to the tooling you need to find it.

Budgeting means having to plan ahead. Budgeting requires constant maintenance. Budgeting is tedious. Budgeting is restrictive. Graph is different.

expand_more

How do I add my cards and transactions?

All debit and credit cards in Canada allow you to log into your account at your bank or financial institution and export your transaction history.

Simply download your transaction history in .csv file format and upload those same files to Graph. There are examples and instructions on our help page if you would like more details or help troubleshooting.

This approach is more secure than other platforms that want you to hand over your passwords - and puts you in control.

expand_more

How much does Graph cost?

Graph is free to use and does not require a credit card.

Graph does not sell or provide your personal data to any third-parties.

expand_more

How does Graph make money?

Currently it doesn't.

Graph is free to use, does not display ads, and does not sell or share your data.

In the future, Graph will release new features that are for paying users only.

expand_more

Is Graph the same as Mint, Quicken, or YNAB?

Most other personal finance products focus on strictly allocating budgets ahead of time, with lots of upfront planning. Graph provides powerful tooling and analytics so that you can explore and answer questions you have about your spending at your own pace.

Graph is also proudly made in Canada, for Canadians, by Canadians! Most other financial products popular in Canada are US-focused with Canadians as an afterthought.
Supported Banks
Import transactions from your favorite cards and accounts in Canada: